IT DOESN'T LOOK LIKE ANYTHING TO ME
2022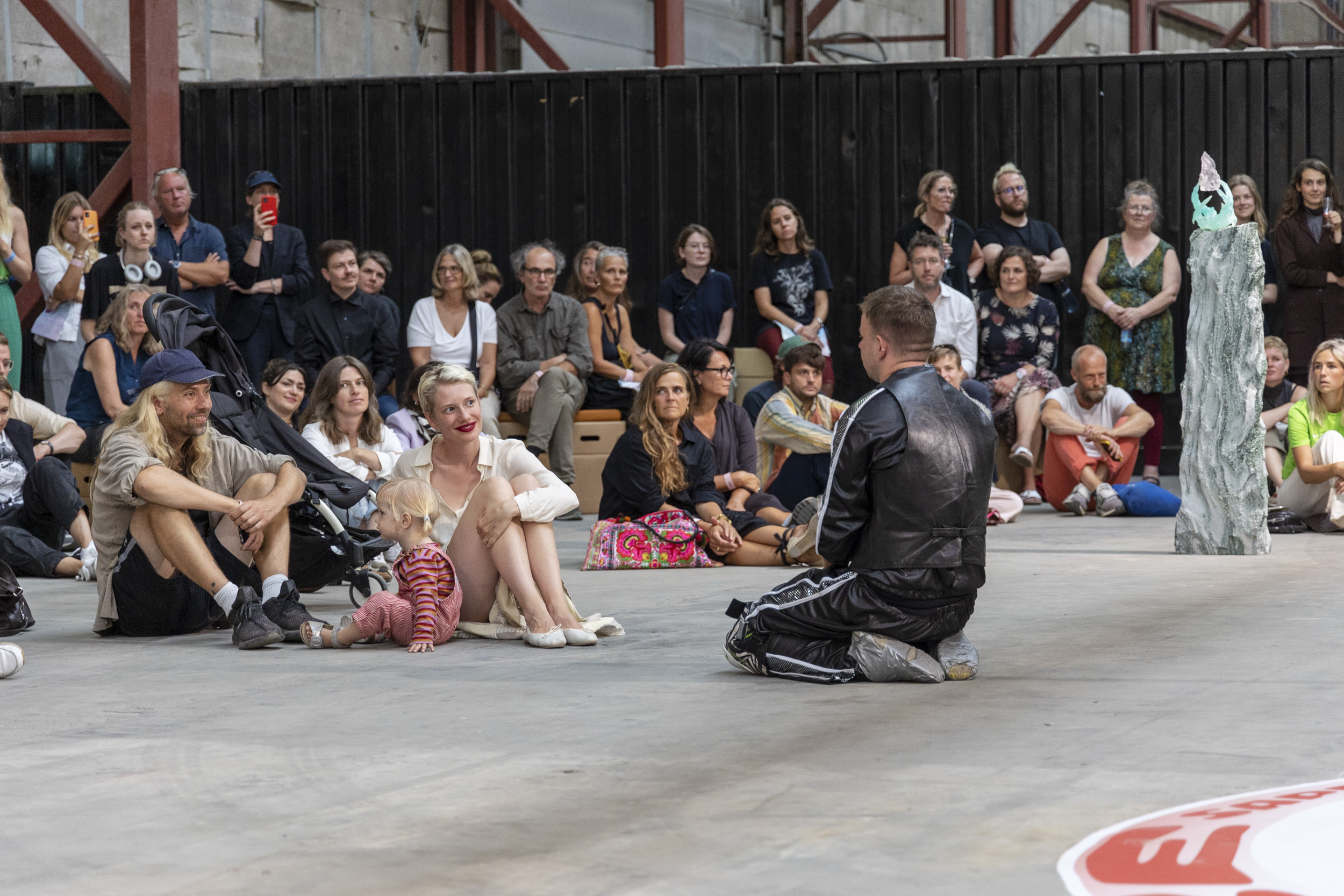 IT DOESN'T LOOK LIKE ANYTHING TO ME
30 min.

The title refers to the sci-fi series Westworld. The phrase is a fail-save response to encounters which make the hosts (robots) question their own reality. (In the setting of an Art Fair one might wonder who are hosts and who are guests?)

The movement material is searching for vulnerability and softness in found material from sports, movies, folk dance and everyday gestures. The fragments are looped and mixed with phrases developed by the performers into a slow choreography. The piece is playing with ambivalence and illegibility as an escape from binaries, while questioning hegemony is a "natural" trait.

Choreography: Jules Fischer
Performers: Andreas Haglund, Beck Heiberg, Jupiter Child, Sall Lam Toro
Composer: Josefine Opsahl
Cello: Hrafnhildur Marta Guðmundsdóttir
Costumes: Camilla Lind

Comissioned for Enter art fair 2022 as part of the program Tales of love and fight curated by Irene Campolmi.
VANITAS (the musical)
2022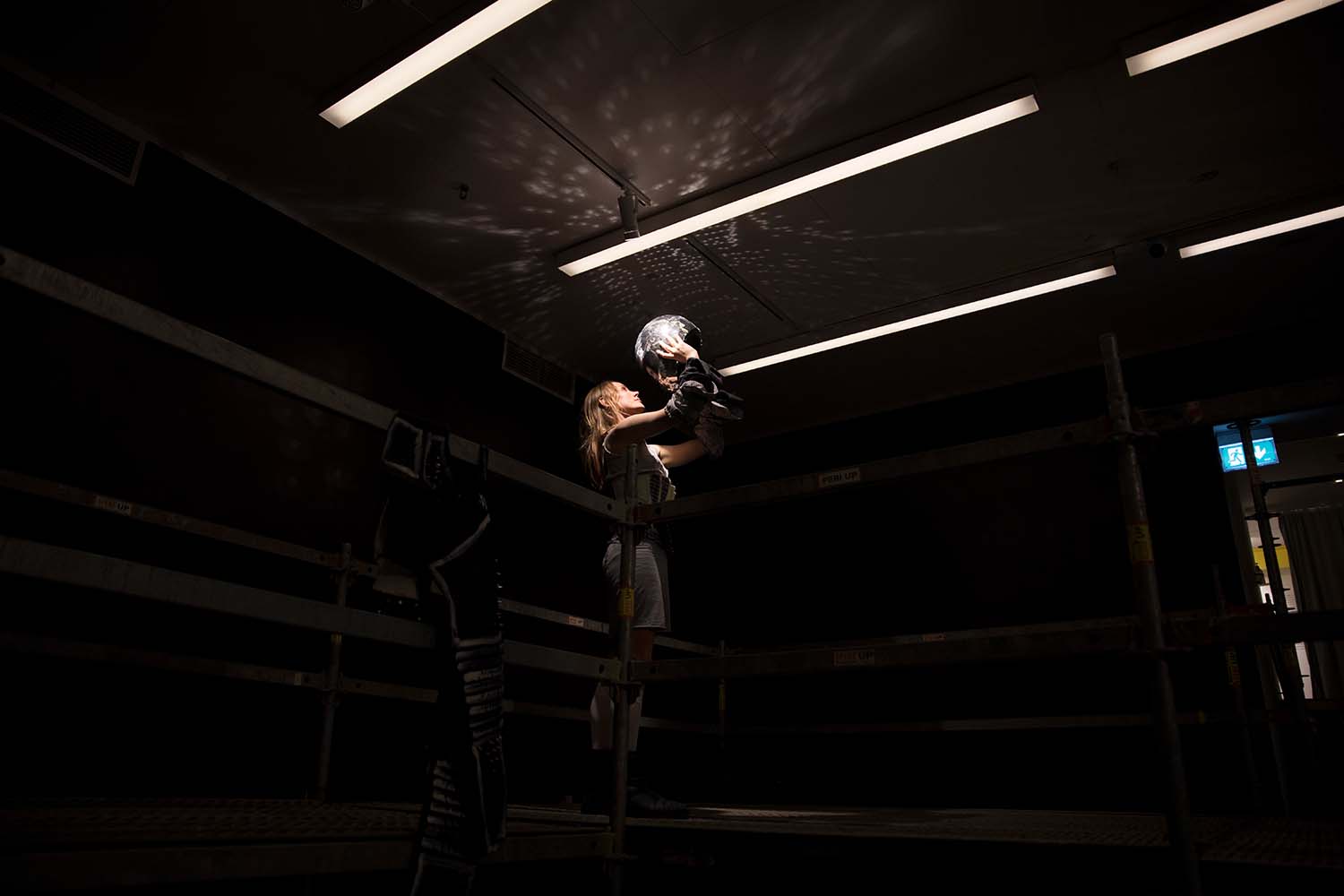 VANITAS (the musical)
45 min.

A performance about the feelings of change. Set in a basement we move through figures and relations to let parts of our selfes die in order to find our way. Making space for grief and sadness VANITAS aimes to let us proces a life filled with the fear of rejection.

Choreography, installation & sound design: Jules Fischer
Performers: Andreas Haglund, Ani Bigum Kampe, Julienne Doko & Kai Merke
Composer: Matilde Böcher
Costumes: Camilla Lind

Shown at Den Frie Udstillingsbygning as part of the program TOASTER.
Opera-performance
Jules Fischer & Matilde Böcher

60 min. piedestals, ceramics, sent and water.

Text: Sapfo / Mette Moestrup
Operasinger: Signe Asmussen
Percussion: Jaleh Negari
Performers and singers: Ani Bigum Kampe, Julienne Doko, Kai Merke, Olivia Riviere, Lisen Pousette and Klara Jensen De Lopez
Costumes and styling: Puer Parasitus

Info: Dryppende Stof is a contemporary take on a sapphic community. The piece takes us through feelings of love, ectasy, loss, grief, pain, loneliness and longing in a setting of many feminities, bodies and genres. Opera, drums, complex choir compositions, queer intimacy, rave inspired choreographies and a ritualistic relation to eroticism and nature embody Sapphos words from 620 BC in the great hall of Glypoteket in Copenhagen.


Video installation based of the performance VANITAS
13 min.

Info: Flowers wither, fruit rot and glass break. Nothing is forever. The title VANITAS refers to baroque still life paintings where the things around us are staged to symbolize both impermanence and vanity. The performance VANITAS will take you into a dark and dreamy world of queer bodies and symbols ruled by change. Here you will meet the precariousness of finding intimacy and meaning in a landscapes dictated by binaries.

VANITAS is performed by professional dancers, performers and singers to a poetic sound collage of popmusic. The performance is filled with ambivalence and everything is in a constant state of transformation.

This performance is a tribute to queer and trans communities everywhere and to those who most be in flux to be whole.